Last year's real estate market on Bainbridge Island was hectic, to put it mildly. While there were fewer sales (down 12% from 2020), the pace at which homes sold set a record. Below you'll find an in-depth analysis of our market with insights to help you stay informed.
Sales of Single-Family Homes on Bainbridge Island

Bainbridge's Single Family Homes in 2021
In 2021, the typical time period from when a property was listed in the MLS to when a buyer and seller came to a written agreement was just 6 days, down from 8 the prior year. That time frame would have been shorter, if not for adherence to the 'offer review date' that most sellers held to in 2021.
Another statistic to analyze is the typical median percentage of the sale price to list price. In 2021, that statistic was 103%, up 3% from 2020. The tighter market pushed buyers to offer even more over the asking price in order to lock up a house in a red-hot market.
Home prices soared from 2020 to 2021. In 2020 the median (typical) home price was $1,008,750 and it jumped 24% to $1,255,000 in 2021. With sustained low-interest rates and tightened demand, buyers drove up prices by an unprecedented amount. For median sale price data from 2006-2021, see the graph below titled "Median Sale Price Single Family Homes".
Seasonal trends followed typical patterns last year, with sales volume rising throughout the first half of the year, peaking in June, and then generally falling for the remainder of the year. With uncertainty as the pandemic began to unfold, 2020 was a different animal. Sales were off to a more sluggish start with sales peaking in August. We saw sustained strong sales volume in the autumn, and it finally died down in December. What 2021 represented was a return to normal seasonality as the real estate market adjusted to pandemic conditions. See "# Sales by Month, 2017-2021" graph below for seasonal data trends.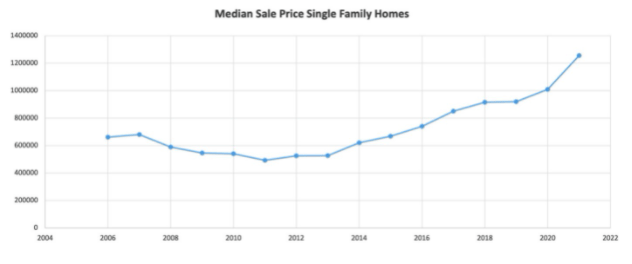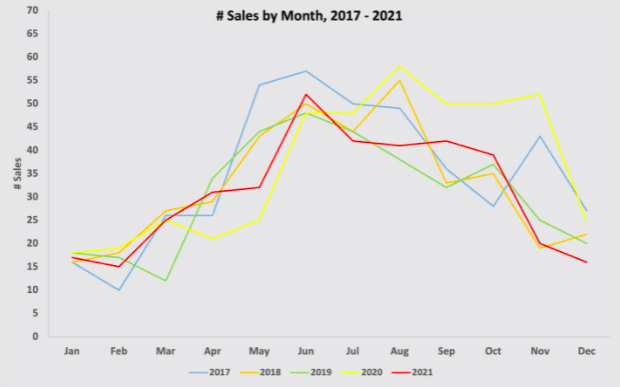 What's next?
2022 is off to a slow start due to a dearth of inventory like never before. With demand still high and inventory as slim as it gets, but interest rates starting to rise, we are likely in for another wild ride. For market predictions and helpful insights, watch the video below with Windermere's Chief Economist, Matthew Gardner.
If you have any questions about our local real estate market or the market in general, please feel free to contact us.